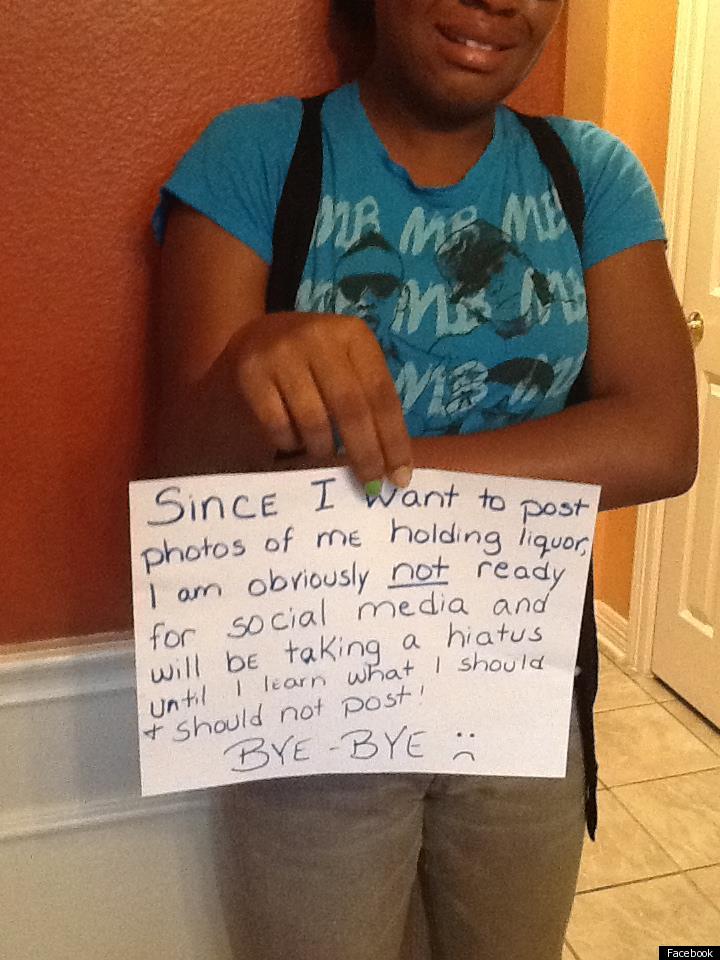 This is the picture that started it all. The mother of this teenage girl found pictures on facebook of her daughter drinking alcohol. As punishment the mother took her daughter's facebook page away and posted this picture to let all her friends know that she would be taking a break from facebook for a while. In my opinion this is effective parenting. It's not abusive and it's not too harsh. Some say it IS wrong because she may get bullied at school because of the picture. I think it's safe to say that if she does get bullied this girl probably knows she can go to her mom about it. That's the thing about effective parenting.
When a parent protects their children from themselves that child knows that their parent will protect them from anything. I have an aunt that use to take me and my three brothers to the beach along with her 5 children and basically any of our other cousins that she could fit into her van and she'd be the only adult with us. Some might think she's crazy, but she wouldn't put up with any of our crap and we knew it. At the same time, however, I was the type of kid that didn't go places with just anyone. I'd go places with my aunt because I felt safe with her. Knowing she wasn't putting up with my crap showed me that she wouldn't put up with anyone else's crap either.
Ever since this picture went viral we have seen a string of pictures displaying public humiliation as punishment for their kids. Most of these pictures are all getting the same kind of praise, but when is public humiliation not ok?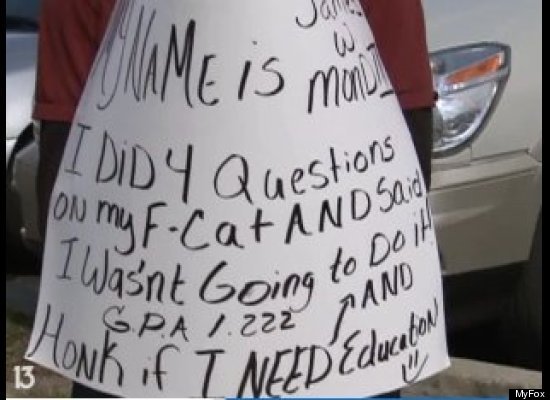 In my opinion. This on is NOT ok. The girl up above was probably trying to be cool among her
friends, and knew that was she was doing was wrong. This child, however, could possibly have another issue.
During my early school days my grades were great. I started with all A's which later turned to A's and B's and then eventually in the 5th grade I made my first C. I worked really hard all year to try and get that grade up but never could. My dad constantly reminded me that he use to always make good grades. He offered us rewards when we made the honor roll and it was really hard for me to think that even though I was trying my absolute best I did't feel good enough because I had that one C. 6th grade was so much harder than 5th and I decided I'd never be as smart as my dad or have grades as good as my dad so I decided to wasn't worth trying. In 6th grade I barely passed most of my classes with mostly D's and a few C's. Had my dad made me stand by the side of the road holding a picture like this it wouldn't have encouraged me to do better, but would instead have made me feel like an even bigger failure. My dad never told me I was a failure, but instead always encouraged me to do better. By the time I was in 8th grade I was back to making A's B's and C's. My parents continued to encourage me and by the time I graduated high school I had a 3.0 gpa that I worked really hard to get. No, I didn't have the 4.0 that my dad had when he was in school, but he still told me and tells me that he is very proud of me.
My daughter Angel has a very hard time at school. Sometimes she tells me she should just go back to kindergarten. I spend time every evening encouraging her with her homework and come up with new and fun games so she can learn to read and write. I guess I'm wasting my time though. I should instead make a big poster-board sign for her to hold by the road that says "Sometimes I refuse to do my school work and have melt-downs at school. I'll probably be in 1st grade forever. Honk if you think I should do my homework."... Yeah... that would help her self-esteem...
Sometimes humiliations is not proper punishment... Just because it's the cool thing to do right now doesn't always make it right.